Welcome Man-Mur Barbershop
We're Open
We are now open for walk-in business as usual! No waiting list signup. There are four chairs in the waiting room that are spaced 6 feet apart.
Our Summer operating hours are Monday through Friday 7am-5:30pm, and will be closed on Saturdays until July 25th due to business because of Covid19 regulations.
Richard will be off the week of June 29th through July 3rd. The shop is closed July 4th for Independence Day.
We are sorry for any inconvenience but we are glad to see our customers again and want you to be safe!
A full service barbershop
Man-Mur Barbershop offers every facet of trim, cut and shave services. Owner Richard Creech has been cutting hair since 1988, and his staff collectively has over 100 years of experience. We are a highly skilled team of hair crafts-people with a penchant for perfectly groomed gents and a service-first mission to leave our clients looking their best.
Our Services
A quick, professional, cut and neck shave
For a the professional who needs to look good on the go
Look your best from ear to ear
($6 with haircut,
$10 without haircut)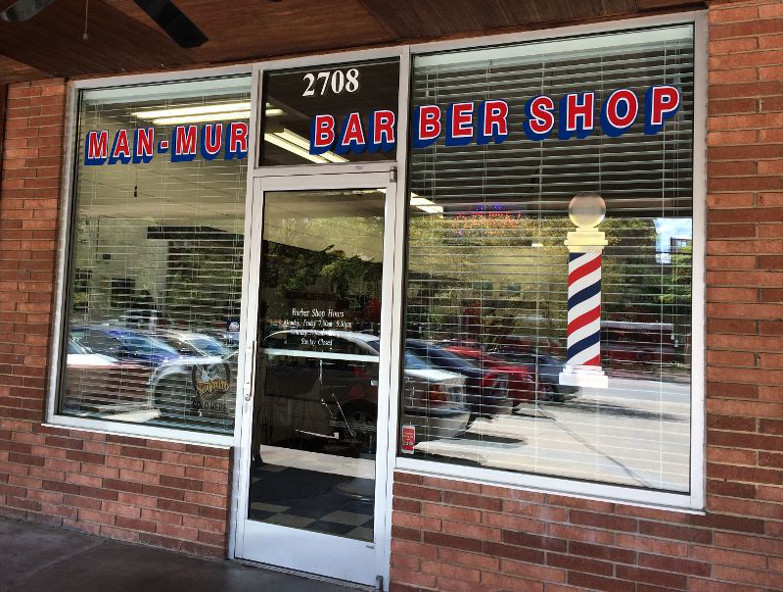 2020 Summer Hours
Monday – Friday
7am - 5:30pm
Closed on Saturday
(We will be open again on Saturdays starting 7/26/20)
You could say we're a cut above the rest, but you'd be forgetting trim and shave